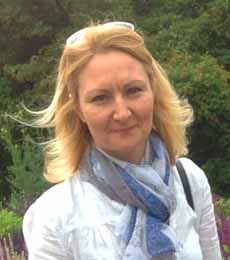 Larisa Kucherenko was born in 1968 in Vladivostok. She graduated from Far Eastern State Technical University, Architectural Dept. Larisa is a member of PUA /the Professional Union of Artists/ and International Public Organization of Artists "Red Square". She is resident of Moscow, Russia.
For the past 8 years Larisa Kucherenko has participated in fourteen group exhibitions and four one-man shows around the world, including The Niche Gallery /Albany, NY/, Arden Gallery /Moscow, Russia/, Art Salon- 2013 at Moscow Central House of Artists, Russian Culture Center in Brussels /Belgium/, VI International Art Salon in France, HCMC Fine Arts Museum /Vietnam/, Exhibition City Hall at Venn Le Rose /Normand, France/.
Artist's paintings are in permanent collection of HCMC Fine Arts Museum /Ho Chi Minh, Vietnam/, Sate Museum of Orsk, and in private collections in US, France, and Russia.